Le programme de renforcement du leadership pour la demande et l'utilisation des données en Guinée

tr-18-244.pdf
— PDF document, 2400 kB (2457792 bytes)
Author(s): MEASURE Evaluation
Year: 2018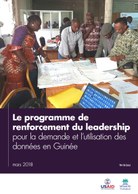 Abstract:
L'équipe de MEASURE Evaluation a été contractée par l'Agence des Etats-Unis pour le développement international (USAID) dans le but de renforcer les efforts déjà entrepris par le gouvernement Guinéen pour réorganiser le système d'information sanitaire (SIS) au lendemain de l'épidémie de l'Ebola. Au bout de six mois, un nouveau système national d'information sanitaire (SNIS) était mis en place dans le pays au niveau de 38 districts sanitaires, soutenu par le logiciel DHIS 2. Parmi les nombreuses instances d'assistance technique fournies au cours de cette période d'implémentation figurait le programme de leadership pour la demande et l'utilisation des données (DUD). Ce programme visait à transmettre une approche d'apprentissage expérientielle pour développer les compétences nationales en matière de leadership, de gestion et d'utilisation des données. Ce, dans le but de traduire les données de routine en informations qui peuvent facilement être utilisées dans les prises de décision pour améliorer les prestations de services.
The MEASURE Evaluation team was contracted by the United States Agency for International Development (USAID) to strengthen the efforts already made by the Guinean government to reorganize the health information system (HIS) following the Ebola epidemic. At the end of six months, a new National Health Information System (NHIS) was established in the country at 38 health districts, supported by the DHIS 2 software. The implementation period included the Leadership for Data Demand and Use (DDU) program as part of the technical assistance provided. This program aimed to convey an experiential learning approach to develop national skills in leadership, management, and use of data in order to translate routine data into information that can easily be used in decision making to improve service delivery.
This document is not available in print from MEASURE Evaluation.