Phylogenetic Analysis of HIV in East Africa Cross-Border Areas: Final Report

Phylogenic Analysis of HIV in East Africa Final Report_tr-18-245.pdf
— PDF document, 1,422 kB (1,456,205 bytes)
Author(s): Jessie K. Edwards, PhD; Arti Virkud, MPH; Milissa Markiewicz, MPH; and Grace Mulholland, MSPH
Year: 2018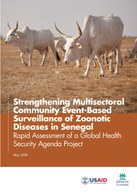 Abstract:
In 2015, 50–80% of roughly 8 million individuals living with HIV in East Africa received antiretroviral therapy (ART) to achieve HIV suppression and reduce transmission. These individuals are at risk of acquired drug resistance. Resistance mutations are projected to increase in prevalence, as ART is prescribed earlier and more frequently.
MEASURE Evaluation, funded by the United States Agency for International Development and the United States President's Emergency Plan for AIDS Relief, conducted the East Africa Cross-Border Integrated Health Study in 2016 with the aim of describing the health status and behaviors of mobile and vulnerable populations at 14 cross-border sites in Kenya, Rwanda, Tanzania, and Uganda. The study interviewed 11,567 participants and had the following objectives:
Identify possible HIV transmission clusters
Characterize drug resistance mutations in mobile and vulnerable populations
Examine the relationship between the presence of drug resistance mutations and characteristics of the sample
This document is not available in print from MEASURE Evaluation.