Women's Health in the Russian Federation: The Russia Longitudinal Monitoring Survey 2010

WP-11-121.pdf
— PDF document, 689 kB (706,129 bytes)
Author(s): Barden-O'Fallon J, Reynolds Z, Speizer IS
Year: 2011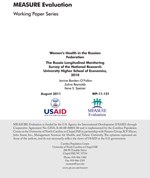 Abstract:
The Russia Longitudinal Monitoring Survey (RLMS) of the National Research University Higher School of Economics (HSE) is a series of nationally representative surveys designed to monitor the effects of Russian reforms on the health and economic welfare of households and individuals in the Russian Federation. RLMS data have been collected annually since 1992. This report uses data from the family planning and reproductive health module of the RLMS round 19 survey, with fieldwork conducted in 2010. Findings provide a snapshot of the current reproductive health of women in the Russian Federation, highlighting some of the successes of the Russian health system to provide comprehensive reproductive health care, but also demonstrating certain changes in behavior that have the potential to produce negative health outcomes for women. For instance, Russian women are initiating sex at younger ages and are increasingly putting off childbearing, thereby increasing the potential exposure to adolescent and unwanted pregnancy.
This publication is also available in the following language:
Russian

This document is not available in print from MEASURE Evaluation.