HIV Behavior Change Communications Program for High Prevalence Sites in Mexico

WP-12-130.pdf
— PDF document, 410 kB (420103 bytes)
Author(s): Gayet C, Freyder M, Roman R, Faura P, Ospina A, Angel Cruz J, Hembling J
Year: 2012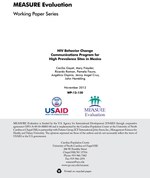 Abstract:
For over 10 years, the U.S. Agency for International Development (USAID) has implemented a program to address Mexico's HIV/AIDS epidemic, in support of the common interests of the governments of the United States and Mexico. The objectives of
this study are to present the basic factors driving the Mexican epidemic, to analyze the USAID HIV/AIDS prevention program objectives and implementation practices during the period 2005-2009, and to provide recommendations for future prevention priorities.
This publication is also available in the following language:
Spanish

This document is not available in print from MEASURE Evaluation.