Men and Family Planning in Rwanda: What Affects the Integration of Men in Family Planning?

WP-12-132.pdf
— PDF document, 251 kB (257,323 bytes)
Author(s): Rusatira JC, Kyamanywa P
Year: 2013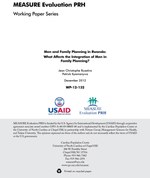 Abstract:
Objective: This study was undertaken to understand what affects the integration of men in family planning (FP) in Rwanda, mainly in villages of Southern Province and Kigali City Province. A secondary objective of the study was to identify the factors that facilitate the integration of men in FP services through other services at healthcare facilities such as voluntary counseling and testing (VCT), antiretroviral therapy (ART), prevention of mother-to-child transmission (PMTCT), and antenatal care (ANC); and the public's awareness on this issue.
Methods: This qualitative, community-based, participatory research was conducted in 24 healthcare facilities in Kigali City Province and Southern Province of Rwanda. Focus group interviews were conducted with 24 healthcare providers, 96 community health workers (CHWs), and 366 women and men.
Conclusion: The factors that facilitated the integration of men in FP include radio talks, Rwanda Ministry of Health (MOH) trainings at healthcare facilities and the community level, CHW teachings and visits to families, and FP counseling in health centers integrated with different services, namely FP, VCT and ANC, though the lack of a defined calendar for FP services to men in these services impended service delivery. Other factors that facilitated the integration of men in FP through other services included: 1) the selection of counselors and their training level in FP methods, 2) the decentralization of the healthcare system through CHWs, and 3) basic trainings offered to healthcare providers and CHWs.  The main factor encouraging men to take a role in FP issues is concern over the financial status of their families; however, they face barriers to use such as misconception about side effects of FP methods, religious beliefs, wives willing to continue having children, and few methods available for them.
The MOH's interest in integrating men into FP services is an attempt to make services more accessible and efficient. Through discussions with healthcare providers in the two regions, the research team identified several suggestions for improving the process of integration in the future. Those suggestions generally fall into two main groups: 1) improving the content and follow-up of trainings in FP at different levels including healthcare providers, CHWs, and couples; and 2) taking into account the local context of service delivery to improve FP services, especially for men, and setting up permanent FP services involving men from the healthcare facility to the village. If FP services are to be offered in a more effective and sustainable manner, awareness programs need to be strengthened to prevent and address rumors about FP that are circulating in communities. Local leaders need to be the first examples; more trainings need to be offered to healthcare providers and CHWs, taking into consideration cultural and religious values; more FP methods, especially pills, need to be found for men; and FP services should be offered with other reproductive health services at facilities such as VCT, ANC, PMTCT, and ART.