Know Your HIV-Prevention Response, Southern Province, Zambia. HIV-Prevention Policies and Programs in Government Health and Non-Health Sectors

WP-14-156.pdf
— PDF document, 774 kB (792,624 bytes)
Author(s): Macwan'gi M, Munyima M, Mbozi P, Simwanza T, Gage AJ
Year: 2014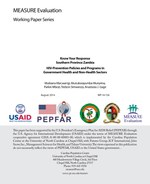 Abstract:
The Know Your HIV-Prevention Response study was a situation analysis of the HIV/AIDS prevention response in Zambia with the goal of identifying principle implementers in Southern Province, programmatic needs, existing policies, and opportunities for the future. The study was implemented jointly by MEASURE Evaluation and the Institute of Economic and Social Research (INESOR) at University of Zambia, in collaboration with the National HIV/AIDS/STI/TB Council, from September to October 2013. The study had three primary objectives:
determine what specific HIV-prevention interventions were being implemented;
determine by which organizations and in which districts the interventions were being implemented; and
assess the extent to which the HIV-prevention response matched current HIV-transmission patterns, were focused on geographic areas where HIV was spreading most rapidly, and covered technical recommendations for populations at higher risk of HIV exposure.
Main findings are described for the government health and non-health sectors, with particular attention to the policy environment, strategic information, geographic gaps in the availability of HIV-prevention interventions in public health facilities, and HIV-prevention services in the government non-health sector.