Effective Linkages from Point of HIV Testing to Care and Treatment in Tanga Region, Tanzania

WP-17-181_en.pdf
— PDF document, 657 kB (673079 bytes)
Author(s): David Elias Kayabu, James Samwel Ngocho, Blandina Theophil Mmbaga
Year: 2017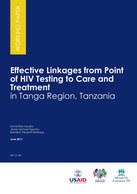 Abstract:
HIV testing and counselling services in Tanzania have expanded rapidly to ensure that people living with HIV (PLHIV) receive antiretroviral therapy (ART) and that ART is initiated at the right time. Clients who present late for HIV care and treatment may miss out on timely initiation of prophylaxis and ART, which may accelerate disease progression and lead to an increased rate of HIV transmission within the community. Linkage to care and treatment is an important part of efforts to accelerate HIV prevention, treatment, care, and support, because It offers an opportunity for PLHIV to receive information and services in a timely manner. The objective of this study was to determine the factors influencing effective linkages of newly diagnosed PLHIV from the point of testing to entry in care and treatment centres (CTCs) in Tanga Region, Tanzania.
This cross-sectional study examined five clinics with a high volume of clients in each of the three districts in Tanga Region. Interviews with the sampled CTC clients obtained quantitative data while focus group discussions with healthcare providers and in-depth interviews with CTC clients yielded qualitative information. The outcome of interest was whether a client enrolled in a CTC within three months of his or her first positive HIV test.
This document is not available in print from MEASURE Evaluation.