Integrating Family Planning Data in Uganda's Health Management Information System

Integrating Family Planning Data in Ugandas_Health Management Information System_Final_WP-18-202.pdf
— PDF document, 727 kB (745,132 bytes)
Author(s): Stephen Ojiambo Wandera, PhD; Betty Kwagala, PhD; Olivia Nankinga, MSc; Patricia Ndugga, MSc; Allen Kabagenyi, PhD
Year: 2018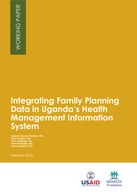 Abstract:
Uganda's health management information system (HMIS) was established in 1985 to collect and analyze national data on morbidity from communicable and noncommunicable diseases, reproductive health, family planning (FP), and immunization. The routine health data reporting system has evolved to the current platform, DHIS 2, use of which began in 2011 in a few districts and was rolled out to all districts in Uganda in 2012.
Few studies have explored the mechanisms for integrating FP data from the public and private health sectors in Uganda's national HMIS. This study aimed to investigate the barriers, facilitators, and best practices of integrating these FP data in the district and national HMIS in Uganda.
This document is not available in print from MEASURE Evaluation.