Challenges and Promising Solutions for Improving the Use of Geospatial Data for PEPFAR Decision Making

ws-16-28.pdf
— PDF document, 925 kB (947,487 bytes)
Author(s): John Spencer and Becky Wilkes
Year: 2016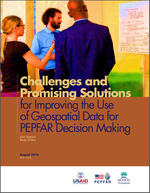 Abstract:
To promote and improve the use of geospatial data by the U.S. President's Emergency Plan for AIDS Relief (PEFPAR) implementing partners, MEASURE Evaluation—funded by the United States Agency for International Development (USAID) and PEPFAR—convened a meeting of the Geographic Information Systems (GIS) Working Group in Washington, DC, on June 23, 2016. The group has been meeting at least annually since the year 2000, giving GIS specialists and users a regular opportunity to share their experiences with spatial data and platforms, and to keep up to date on recent developments in GIS technology and its uses for global public health. Over the years, several springboard discussions from these meetings have resulted in publications and have also led to further collaborative work within the project.
This report provides a detailed account of the workshop proceedings.
This document is not available in print from MEASURE Evaluation.