Health Informatics
MEASURE Evaluation helped at global and country levels to strengthen health information systems (HIS) by applying innovative health informatics tools and processes.
Health informatics is defined by the United States National Library of Medicine as "the interdisciplinary study of the design, development, adoption, and application of (information technology) IT-based innovations in healthcare services delivery, management, and planning."
To learn how this work is continuing after the MEASURE Evaluation project, please visit Data for Impact and TB DIAH.
Its applications in health include telemedicine, electronic medical records, health information systems with decision support, mHealth, data warehousing, and eLearning tools. Health informatics makes the right information available to the right people—within and without an organization—at the right time and place, and for the right price.
In this era of "Big Data," which is marked by information available at higher volume, greater variety, and increasing velocity, MEASURE Evaluation worked at global and country levels to strengthen health information systems (HIS) by applying innovative health informatics tools and processes in several ways:
We collaborated with stakeholders and solicited strong input from countries to develop or adapt standards that make it possible for datasets to become interoperable, thereby creating a wide array of shared data that decision makers can rely on to improve health services.
We used health informatics to create platforms for electronic data sharing, which makes timely data available to people who need them to make informed decisions.
We created data analytics and visualization capabilities for existing information systems, including district health management systems in low-resource countries (chiefly, the DHIS2 platform). These capabilities increase the utility of health data by aggregating them to illustrate overall trends, while retaining the capacity to disaggregate them to identify specific health needs at specific locations and facilities.
Data ethics was at the core of our work. We created guidelines, built capacity and systems that uphold the confidentiality of patient information, reduce gender bias, and reduce incidence of stigma, through control of how identifying information is recorded, transferred, stored, and accessed.
We developed systems that are patient-centered. That means that information systems should enhance care by tracking patients through their treatment progress. For example, as HIV-infected patients move through the progress of antiretroviral therapy (ART), patient-centered systems enable better patient-to-provider communication, track drug supply inventory, and improve data management and overall patient management. These systems enhance the effectiveness of the test, treat, and retain approach that is a focus of the United States President's Emergency Plan for AIDS Relief (PEPFAR).
We eased the burden of frontline healthcare workers by supporting countries to gradually migrate from paper-based systems to strong and secure electronic systems for more efficient, real-time (or near-real-time) reporting, particularly in rural and peri-urban low-resource areas.
We developed better data collection systems, using information technology solutions and standardized procedures, so that health outcomes can be monitored, data is collected more accurately, and quality checks are conducted routinely—especially at the data source points, such as healthcare facilities. Better data collection enables decision making based on quality data to improve health interventions.
We worked with in-country and international partners in finding solutions to new problems for harnessing information and communication technologies that reinforce health information systems and hold promise to improve patient experience and health outcomes.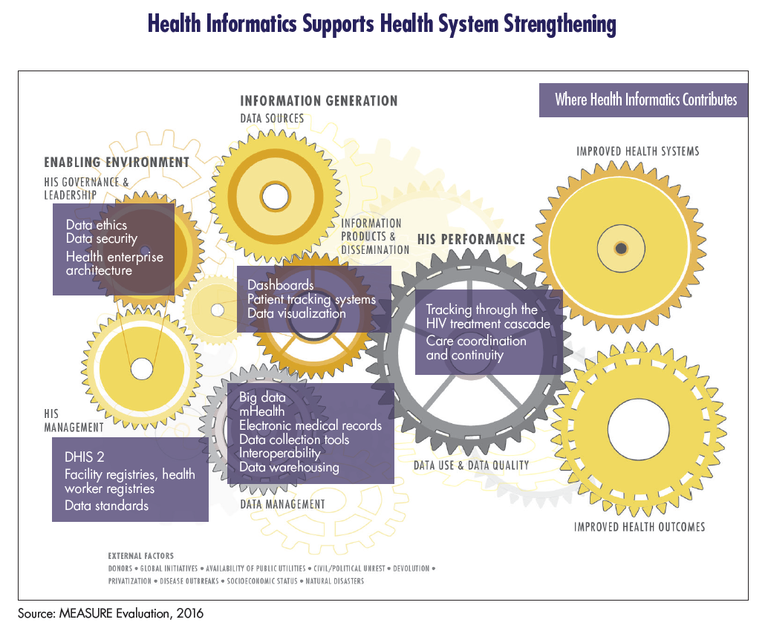 Related Content
Health Information System Strengthening: Standards and Best Practices
Health Informatics for Low- and Middle-Income Countries: Short Course for Health Information System Professionals
Health Information Systems Interoperability Maturity Toolkit
Health Informatics Supports Health System Strengthening (infographic)
Privacy, Security, and Confidentiality of EHRs
Privacy and Security for mHealth Projects in South Africa
Overview of Security Considerations for eHealth
Using Technology to Boost Healthcare
Mobile Technology for Monitoring and Evaluation and Health Information Systems in Low- to Middle-Income Countries
Good Practices in Issuing Mobile Devices to Healthcare Workers 
Interoperability Considerations in the Design, Development, and Implementation of mHealth Projects
Defining Electronic Health Technologies and Their Benefits for Global Health Program Managers 
Data Visualization That Works - Facilitating HIV Program Targeting: Case Examples and Considerations