Data Visualization That Works - Facilitating HIV Program Targeting: Case Examples and Considerations

wp-16-162-en.pdf
— PDF document, 686 kB (702,579 bytes)
Author(s): MEASURE Evaluation
Year: 2016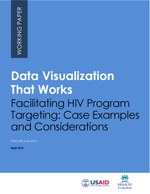 Abstract:
Electronic health information systems offer health data in digital formats that are more complete, timelier, and more robust. These technologies offer a promise that health systems—and therefore health—can be improved with an increasing in evidence-informed decision making.
Access to data, however, is not sufficient. Data must be processed, analyzed, and presented to decision makers in usable formats. Data visualization can help would-be data users to see patterns, trends, and correlations that might go undetected in text-based or numerically-based data.
MEASURE Evaluation sought to understand how data visualization tools are being used in the field to improve HIV programs and to see what kind of impact they have on decision making.
Multiple software platforms, either open-source or proprietary, are available to facilitate data visualization and often are interactive, providing tools to develop charts, maps, infographics, timelines, and other visuals. Our interviews with respondents uncovered important facilitators and barriers to the development of data visualization and its successful use in decision making.
This paper presents six fundamentals for data visualization and four case studies to illustrate their application in various program settings.
Watch a related webinar recording.