Case Study Series: Community-Based Information Systems: Overview

sr-14-105.pdf
— PDF document, 478 kB (489,758 bytes)
Author(s):
Year: 2014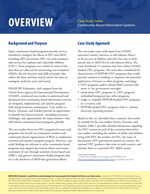 Abstract:
Many community-based programs provide services intended to mitigate the effects of HIV and AIDS, including HIV prevention, HIV care and treatment, and services for orphans and vulnerable children (OVC). These programs vary widely in terms of the data that are collected for monitoring and evaluation (M&E); the job function and skills of people who collect the data; and how and by whom the data are managed, analyzed, used, and stored.
MEASURE Evaluation, with support from the United States Agency for International Development (USAID), conducted case studies to understand and document how community-based information systems are designed, implemented, and used by program staff and government counterparts. Case studies in Kenya, Tanzania, and Zambia provide an opportunity to identify key lessons learned—including successes, challenges, and opportunities for improvement—that will inform community-based programs globally.
The case studies focus on OVC programs because such programs rely heavily on community workers and community-based organizations (CBOs) to implement activities and monitor program progress. However, case study findings are relevant to other community-based programs that support prevention efforts and ensure continuity of care through nutrition, home based care (HBC), and general community health programs that are at the forefront of AIDS-free generation efforts.