African Evaluation Association 2019 Conference
MEASURE Evaluation experts will share project work at the African Evaluation Association (AfrEA) conference.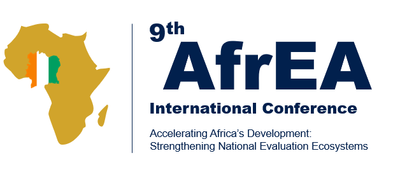 The African Evaluation Association (AfrEA) will host its ninth international conference in Abidjan, Cote d'Ivoire, March 11-15. The theme for this conference is "Accelerating Africa's Development: Strengthening National Evaluation Ecosystems." Learn more and register at the conference website: https://afrea.org/2019conference/. 
MEASURE Evaluation and Data for Impact will have a presence at the conference, including an exhibition booth and the following presentation.
Presenter

Authors

Title

Type

Time

Heidi Reynolds

Lisa Marie Albert

Dr. Eve Namisango

Triangulating Data Sources to Track Pregnancy Delay and Contraceptive Use among Beneficiaries Enrolled in the DREAMS Program in Northern Uganda

 

Presentation

Session 2, 11am-, Thursday, March 14 (Strand 4)

Heather Davis

Emily Bobrow, Heather Davis, et al.

Innovative Legacy, Outcome, and Process Tracing Evaluations of the Partnership for HIV-Free Survival

Presentation

Session 2, 11am, Thursday, March 14 (Strand 4)

Heather Davis

 Heather Davis, Edwige Bosso, Eva Silvestre, Heidi Reynolds, et al

Effects of Investments in Strengthening Routine Health Information Systems on Reaching 90-90-90 Goals in Côte d'Ivoire

Presentation

Session 5, 11am, Friday, March 15 (Strand 4)

Henry Machina (IAPRI)

IAPRI team

Evaluating Gender Dimensions of Agricultural Programs: A Case Study from Zambia

 

Presentation

 

Session 1, Thursday, March 15 (Strand 2)

Edwige Bosso

Dr Edwige Abitche-Bosso,
M. Serge Evrard Bogui, M. Arnaud Kouadio Bah, Dr Franck Olivier Ba Gomis, Dr Léontine Gnassou, Dr Alimou Barry, Mlle Jeanne Chauffour

Rapport d'analyse des données de routine de la cohorte des femmes enceintes séropositives vues en consultation prénatale jusqu'à l'accouchement au dernier trimestre 2016 en Côte d'Ivoire

 

 

Presentation

 

Session 1, Thursday, March 15 (Strand 4)

Leontine Gnassou

Adebola Lawason, Kola' Oyediran, Adesegun Fatusi, Stephanie Mullen, Charlotte Colvin, Obioma Chijioke-Akaniro, Temitayo Odusote, Simeon Onyemaechi, Kenneth Castro, Suzanne Cloutier and Bamidele Bello

 

Outcome of Tuberculosis treatment in Nigeria: Evidence for Action

Poster

5-6pm Wednesday March 13 

Leontine Gnassou or Edwige

Dr. Léontine Gnassou, Dr. Edwige Bosso, Dr. Alimou Barry, Jeanne Chauffour

Monitoring the Cote d'Ivoire HIS performance using the PRISM approach, methods, and tools

 

 

 

Poster

5-6pm Wednesday March 13