Publications Released
Targeted evaluations for OVC programs; data demand and information use decision calendar now in French.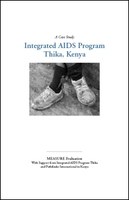 Thika, Kenya Case Study
A Case Study: Integrated AIDS Program - Thika, Kenya (sr-08-41-en)
The global HIV and AIDS epidemic has affected sub-Saharan Africa more than any other region in the world. AIDS deaths in sub-Saharan Africa account for 72% of AIDS deaths worldwide (UNAIDS, 2006a). As a result, the number of children who have been orphaned or otherwise made vulnerable by HIV and AIDS is highest in this region.
Despite the influx of programs and policies in the last decade to address this crisis, very little evidence is available demonstrating the impact and effectiveness of these programs. In an attempt to fill this knowledge gap, MEASURE Evaluation is undertaking a targeted evaluation of four programs for orphaned and vulnerable children (OVC) in four unique settings in Kenya and Tanzania. The targeted evaluation includes household surveys, focus group discussions, a costing analysis and in-depth case studies of the selected programs.
Download A Case Study: Integrated AIDS Program - Thika, Kenya 
Decision Calendar Available in French
MEASURE Evaluation has developed a Decision Calendar, a core tool in fostering demand and information use (DDIU). It is now available in French.
The Calendar provides a systematic approach for stakeholders to leverage data into more productive decision processes by encouraging greater use and demand for information by decision-makers, identifying ways to more effectively use existing data, and providing a timeline for monitoring progress in the decision-making process.
Health data and information are valuable if used in the decision-making process. Interventions that increase local demand for information and facilitate its use enhance evidence-based decision making and help make the health system more effective. Activities that foster DDIU involve a systematic approach that applies proven, effective best practices and appropriate tools to help increase demand for health system data and ensure that the information is used in an evidence-based decision making process. 
To support evidence-based decision making, MEASURE Evaluation has developed a conceptual framework and set of tools to aid policymakers and stakeholders in implementing DDIU strategies. In this framework, there is a clear and consistent link between the use of health information and the commitment to improving the quality and availability of data.
Download the Decision Calendar in French and find more information on DDIU and its core tools.