Public Health Foundation of India Partners with MEASURE Evaluation
The Public Health Foundation of India and MEASURE Evaluation recently completed four years of collaborating together on monitoring and evaluation regional training in Asia.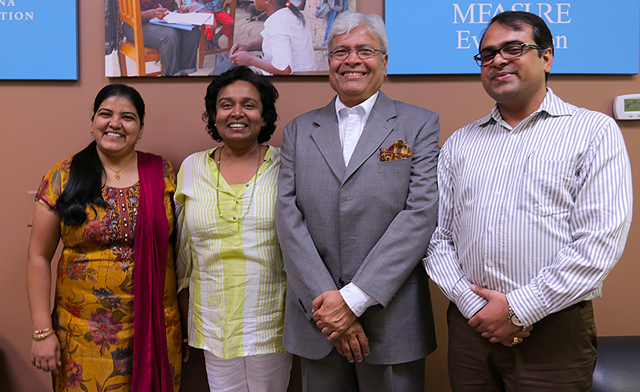 The Public Health Foundation of India (PHFI) and MEASURE Evaluation recently completed four years of collaborating together on monitoring and evaluation (M&E) regional training in Asia. During that time between 2008 and 2013, over 20 national, regional, and global workshops on M&E topics have been conducted, and one M&E concentration has been developed and will be included in PHFI's Master of Public Health program when it is launched in 2014. To mark the anniversary, three PHFI representatives visited MEASURE Evaluation's headquarters in Chapel Hill, North Carolina.
During their August 2013 visit, Subhash Salunke, PHFI senior advisor and director of training, Sangeeta Tikyani Singh, PHFI program officer for quality assurance and hospital management, and Kapil Dev Singh, PHFI program manager in the training division, were interviewed on film. They discussed how the partnership with MEASURE Evaluation has strengthened their ability to conduct M&E activities. The interviews will be posted on MEASURE Evaluation's Web site.
In her interview, Tikyani Singh said the partnership between the two organizations has been effective because MEASURE Evaluation provided the technical M&E skills while PHFI had the regional expertise and had identified M&E as a strategic priority area. She also said M&E is now ingrained in the programs PHFI and other organizations conduct, emphasizing that it is important to build public health workers' knowledge in the discipline. M&E "acts as a circulatory system of your project," Tikyani Singh said.
The collaboration began with MEASURE Evaluation providing training on M&E topics to PHFI staff to design and deliver M&E training programs, with the long-term goal of becoming an independent M&E reference center in Southeast Asia. As a step toward this aim, PHFI is in the process of creating a separate M&E unit to coordinate M&E training, technical assistance and research activities conducted across PHFI and its institutes. Since receiving initial M&E training from MEASURE Evaluation, Tikyani Singh has taught M&E skills to public health officials throughout India and in other countries, including U.S. Agency for International Development staff and health ministry representatives in Bangladesh and Nepal. She has worked at PHFI since 2010.
MEASURE Evaluation has provided technical assistance for M&E workshops and other training events, as well as preparing PHFI faculty to conduct M&E capacity building independently. For example, in 2012 and 2013, PHFI conducted two public health nutrition workshops and a geographic information systems workshop at the national level, without MEASURE Evaluation's assistance. PHFI hopes to add courses on other M&E topics relevant to public health.
Additionally, PHFI has a distance-learning program it is seeking to expand to make M&E accessible to more individuals. One such population is health workers in India, who have requested a program they can follow as financial restrictions or other barriers limit them from leaving their sites to attend in-person trainings. Currently, PHFI is working with MEASURE Evaluation to develop a three-month long online certificate course on M&E of health programs, expected to launch in 2014.
Serving as a center that aims to strengthen public health training, research, and policy, PHFI is a public-private initiative that has collaborated with state and national agencies throughout India, as well as international institutions. More than 400 professionals focusing on research, administration, public health, social science, and other disciplines, work at the New Delhi-based institution.