Zambian Stakeholders Review PLACE Findings
MEASURE Evaluation assisted a Zambian research organization to conduct two PLACE studies in Kapiri Mposhi and Mongu, Zambia.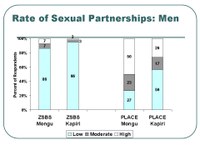 rate of sexual partnerships-zambia
MEASURE Evaluation assisted the Frontiers Development and Research Group, a Zambian research organization, to conduct two PLACE studies in Kapiri Mposhi and Mongu, Zambia. The two sites were selected by stakeholders because of high HIV/AIDS prevalence indicated by data from antenatal clinics. The Mongu PLACE study was conducted in June 2005, and the Kapiri Mposhi PLACE study was conducted in September 2005. Key findings include:
The rate of new sexual partner acquisition is high in Mongu and Kapiri Mposhi. In Mongu approximately 50% of both men and women interviewed had a new partner in the past four weeks. In Kapiri Mposhi the percentages were 20% for men and 24% for women.
Data confirm the importance of venues in sexual networks. In Mongu 30% of men and 38% of women indicated that they had met a partner at the venue where they were interviewed. In Kapiri Mposhi these percentages were 19% for men and 27% for women.
Data confirm the role of commercial sex as important. In Mongu 42% of male respondents and 46% of female respondents reported exchanging sex for money. In Kapiri Mposhi the percentages were 24% for men and 28% for women.
These data are useful for stakeholders in planning prevention activities in the venues where people met new partners. Findings from the two PLACE studies were disseminated at a national level in Lusaka, Zambia in April 2006 and also locally in Mongu and Kapiri Mposhi. Following the dissemination of the study findings, MEASURE Evaluation worked with the local stakeholders to develop recommendations. The recommendations reflect a combination of directly using the findings from the study and incorporating local stakeholder priorities for combating several issues in the region, i.e. poverty, unemployment, and HIV/AIDS prevalence. These recommendations were included in the presentations to decision-makers and stakeholders. For Mongou, recommendations included:
implementing a public awareness campaign to destigmatize AIDS
increasing surveillance of risk behaviors among young people
focusing on behavioral change and increasing self-efficacy
designing interventions to address poverty and unemployment issues that are associated with sexuality
For Kapiri Mposhi, the findings suggest the need to devise strategies to empower people economically to reduce poverty-driven risk behaviors, sensitize venue owners and managers to the role of condoms in the prevention of HIV transmission, and to link venues to HIV/AIDS prevention programs to ensure information and activities are kept up-to-date.