mHealth for Behavior Change Communication Brief: Why mHealth messaging?

fs-15-149-en.pdf
— PDF document, 582 kB (596,417 bytes)
Author(s): MEASURE Evaluation SIFSA
Year: 2015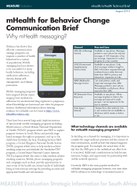 Abstract:
Evidence has shown that effective communication message programs can improve a number of health behaviors for a variety of populations. Mobile messaging has been shown to be successful for many health behaviors, including medication adherence, chronic disease self-management, and disease prevention.
Mobile messaging programs have targeted diverse topics ranging from medication adherence for antiretroviral drug regimens to pregnancy-related knowledge and antenatal care visits for pregnant women. Additional information about existing evidence for mHealth can be found at https://www.mhealthevidence.org/
There have been several large-scale implementations of nation-wide mobile messaging programs including: MomConnect, a South African National Department of Health (NDoH) program which uses SMS to register pregnant women in South Africa and provide stage-based messages throughout pregnancy and up to the child's first birthday; the Stop Smoking Services SMS program, a United Kingdom National Health Service (NHS) program which aims to help smokers achieve smoking cessation; and similarly the SmokefreeTXT program, a United States National Cancer Institute (NCI) program which also aims to help smokers achieve smoking cessation. Mobile phone messaging programs and campaigns such as these provide opportunities to meet some of the health care related needs of individuals living in low-resource settings by providing accurate and appropriate health care information.