Evaluation FAQ: How Much Will an Impact Evaluation Cost?

fs-15-156-en.pdf
— PDF document, 393 kB (402,856 bytes)
Author(s): MEASURE Evaluation
Year: 2015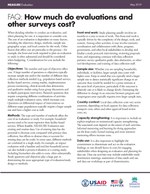 Abstract:
The cost of an impact evaluation is dependent on many factors, each particular to the program being evaluated, the outcomes of interest, and the local context for the work. Other factors are particular to the evaluation process—for example, the front-end work required for planning an evaluation is often substantial and should be considered in budgeting for an evaluation.