Defining Electronic Health Technologies and Their Benefits for Global Health Program Managers: Data Interoperability and Data Integration

FS-15-165f.pdf
— PDF document, 65 kB (66,949 bytes)
Author(s): MEASURE Evaluation
Year: 2015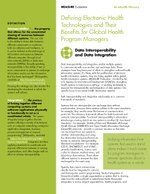 Abstract:
Data interoperability and integration enable multiple systems to communicate with one another and exchange data. These strategies have long been part of efforts to strengthen national health information systems. Now, with the proliferation of electronic health information systems, they are being applied within global health information systems.
Both interoperability and integration rely heavily on a common framework of standards. Unifying information from systems that used to stand alone makes it much easier for program managers to answer questions about a health system as a whole.
MEASURE Evaluation is working worldwide to improve the interoperability and integration of data systems. Our specific focus is on routine health information systems.
Access resources, including a recording and presentation slides, from a webinar on interoperability and crowdsourcing.