Using DHIS 2 to Strengthen Health Systems

fs-17-212.pdf
— PDF document, 311 kB (319,307 bytes)
Author(s): MEASURE Evaluation
Year: 2017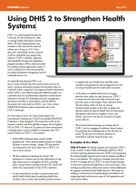 Abstract:
DHIS 2 is a software platform that the University of Oslo developed in 2006 to manage health information systems (HIS). The first implementation was in India in 2006 and the first national rollout was in Kenya in 2010. Since then, low- and middle-income countries (LMICs) worldwide have adopted the software. DHIS 2 is flexible, adaptable, and extendable through web application program interfaces (APIs), which are useful for building software applications (apps). It can be customized to suit many purposes for health information management and for nonhealth sectors, too.
An optimally functioning DHIS 2 can host a myriad of health data from many sources and can be used to produce information products that facilitate data use. Deployed within a supportive and organized health information system (HIS), it can result in improved health for people. It is a powerful tool, but its effectiveness depends on many factors indicative of strong HIS: leadership and good management, governance of policies and procedures, and the skills of the people who work with the DHIS 2 tool. That is where MEASURE Evaluation plays its important role in the DHIS 2 landscape.
For more than 20 years, the United States Agency for International Development (USAID) has funded MEASURE Evaluation to help strengthen HIS around the world and to measure, evaluate, and share globally strategies that strengthen HIS in LMICs. To that end, the project has been instrumental in helping these countries establish or strengthen their HIS, many of which use DHIS 2.