Impact Evaluation of Interventions to Strengthen Health Facility Operation and Management Committees in Nepal: Summary of the End Line Report

fs-17-239.pdf
— PDF document, 473 kB (484,949 bytes)
Author(s): MEASURE Evaluation
Year: 2018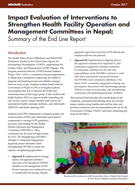 Abstract:
The Health Policy Project (Palladium) and MEASURE Evaluation, funded by the United States Agency for International Development (USAID), implemented the Gender, Policy, and Measurement (GPM) Program. This program partnered with the USAID-funded Suaahara
Project (2011–2016), a community-focused organization in Nepal that is dedicated to improving the health of pregnant and lactating women and children younger than two years of age. Suaahara worked closely with the Government of Nepal (GON) to strengthen policies
and programs that aim to improve the health and nutritional status of this target group. It also worked with health facilities (HFs) to improve health counseling and care services, and to connect families with services for reproductive health; maternal, newborn, and child health
(MNCH); and family planning (FP).
Suaahara and GPM collaborated to integrate gender and social inclusion (GESI) and community participation components in existing GON guidelines, processes, and training for the Health Facility Operation and Management Committees (HFOMCs). These committees are the local oversight bodies for HFs. The Strengthening HFOMCs through a Community Engagement Approach project (hereafter called Strengthening HFOMCs) tested two capacity strengthening approaches.
This technical brief describes the overall design of the evaluation, summarizes key findings from the end line impact analysis using baseline and end line data, and provides conclusions and recommendations for use by the Government of Nepal, USAID, and others addressing the work of HFOMCs