Renforcement des systèmes d'information sanitaire en Guinée

fs-17-251-fr.pdf
— PDF document, 4,117 kB (4,216,585 bytes)
Author(s): MEASURE Evaluation
Year: 2018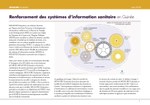 Abstract:
MEASURE Evaluation, une initiative financée par l'Agence des États-Unis pour le développement international, collabore avec le Bureau de Stratégie et de Développement (BSD) en Guinée sous l'égide du Ministère de la Santé et de l'Hygiène Publique (MSHP) pour actualiser sa collecte de données, autrefois cloisonnée et facilitée par les bailleurs de fonds, en la transférant vers un système simplifié recourant à la plateforme électronique DHIS 2. La plupart de ces efforts visent à renforcer les éléments du système d'information sanitaire (SIS) définis dans le Modèle de renforcement des systèmes d'information sanitaire (MRSIS) de MEASURE Evaluation.
The MEASURE Evaluation project, funded by the United States Agency for International Development (USAID), collaborates with Guineas's Office of Strategy and Development (BSD) within the Ministry of Health and Public Hygiene (MSHP) to update its data collection system, formerly divided and facilitated by donors, by transferring it to a simplified system using the electronic platform DHIS 2. Most of these efforts aim to strengthen the elements of the health information system (HIS).
This publication is also available in the following language:
English

This document is not available in print from MEASURE Evaluation.