Characterizing Male Sexual Partners of Adolescent Girls and Young Women in Mozambique

Characterizing Male Sexual partners of AGYW_Mozambique_FS-18-286.pdf
— PDF document, 1,917 kB (1,963,834 bytes)
Author(s): MEASURE Evaluation
Year: 2018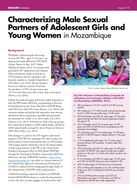 Abstract:
In countries with generalized HIV epidemics in sub-Saharan Africa, adolescence marks an increase in HIV prevalence and the emergence, and dramatic expansion, of gender disparities in HIV (Idele, et al., 2014). Recent estimates from seven African countries found that the prevalence of HIV among women ages 15–25 is more than twice that of their male counterparts (Brown, et al., 2018).
Despite the epidemiological and human rights imperative to help adolescent girls and young women (AGYW) remain AIDS-free, programming in this area has had limited success.
One strategy is to prevent the HIV-negative male sexual partners of AGYW from acquiring HIV and to reduce the infectiousness of those male partners who are HIV-positive. This strategy requires information about the characteristics of male sexual partners of AGYW.
The United States Agency for International Development (USAID)/Mozambique asked MEASURE Evaluation—which is funded by USAID and the United States President's Emergency Plan for AIDS Relief—to study the characteristics of men who have recently engaged in sexual activity with AGYW. This work falls in line with MEASURE Evaluation's efforts to control the HIV epidemic. The resulting study sought answers to the following research questions:
Who are the sexual partners of AGYW?
Is sexual risk-taking behavior among AGYW and their male partners associated with certain sexual partner characteristics?
To what extent are male sexual partners of AGYW using, or willing to use, HIV/AIDS services?
HIV prevention and care programs should use the study's results to reach male sexual partners of AGYW more effectively.

Versão em Português: https://www.measureevaluation.org/resources/publications/fs-18-286%20pt/