Improving Data Quality through Implementation of Centers of Excellence in the Democratic Republic of the Congo

fs-18-319a.pdf
— PDF document, 272 kB (279,311 bytes)
Author(s): MEASURE Evaluation
Year: 2018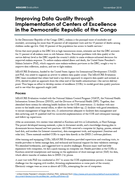 Abstract:
In the Democratic Republic of the Congo (DRC), malaria is the principal cause of morbidity and mortality, accounting for more than 40 percent of all outpatient visits and for 19 percent of deaths among children under age five. Only 30 percent of the population has access to health services.
Given that most people in the DRC live in high-transmission zones, estimates are that the DRC accounts for 11 percent of all malaria cases in sub-Saharan Africa. Persistent problems with data quality at the service delivery level in the DRC impede the country's ability to make evidence-informed decisions for improved malaria response. To reduce malaria-related illness and death, the United States President's Malaria Initiative (PMI), which supports nine malaria-endemic provinces in the DRC, sought a way to improve data collection, analysis, and use to fight malaria.
MEASURE Evaluation, funded by the United States Agency for International Development (USAID) and PMI, was asked to organize an activity to address data quality issues. The MEASURE Evaluation DRC team considered that others had tried a top-down approach to improve data quality and instead, in 2016, elected to pilot an approach from the other end of the health infrastructure—the service delivery point. Thus began an effort to develop centers of excellence (COEs) to model good data quality practices and to see what this approach might yield.