The PEPFAR Local Capacity Initiative Evaluation Methods in Uganda

FS-19-411.pdf
— PDF document, 1,424 kB (1,459,178 bytes)
Author(s): Mary Freyder, Eve Namisango, Tory M. Taylor, Annie Glover, and Katherine Andrinopoulos
Year: 2020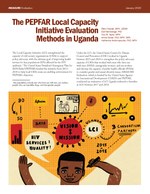 Abstract:
The Local Capacity Initiative (LCI) strengthened the capacity of civil society organizations (CSOs) to support policy advocacy, with the ultimate goal of improving health services for key populations affected by the HIV epidemic. The United States President's Emergency Plan for AIDS Relief (PEPFAR) funded the initiative from 2013–2018 to help local CSOs create an enabling environment for PEPFAR's objectives.
Under the LCI, the United States Centers for Disease Control and Prevention worked in Uganda between 2015 and 2018 to strengthen the policy advocacy capacity of CSOs that worked with men who have sex with men, transgender women, and sex workers and develop the capacity of public health officials to consider gender and sexual diversity issues. MEASURE Evaluation, which is funded by the United States Agency for International Development and PEPFAR, conducted an evaluation of LCI Uganda between 2017 and 2018.
This brief provides an overview of the methods that  the evaluation team used to measure change resulting from LCI's work in Uganda. Additional briefs summarize the main interventions that LCI employed to create an enabling environment for HIV policy, provide overviews of work to develop organizational capacity through coalition building, and an overview of the community scorecard strategy to improve HIV clinical services.