Scaling mHealth for Community-Based Health Information Systems – Lessons and Best Practices

gr-17-004-en.pdf
— PDF document, 5,488 kB (5,620,631 bytes)
Author(s): MEASURE Evaluation
Year: 2017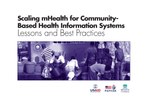 Abstract:
Increasingly, community-based health programs are asked to collect client data that then are reported to national health information systems (HIS) and health programs so that projects and governments can use them to inform decision making. To meet this request, community-based programs are working to develop mobile health (mHealth) solutions to help community health workers (CHWs) collect data, receive timely feedback to improve data quality, use data, and, ultimately, ease the transfer of community data into the health management information system (HMIS).
Low-cost technology and improved Internet access have expanded the availability of mHealth solutions for community-based programs. However, despite almost two decades since the introduction of mHealth, few programs have managed to successfully scale and sustain mHealth solutions.
Many documented small-scale digital health interventions exist but, despite a high degree of market penetration, informatics companies say that digital devices are not as widely used for health services as might be expected. Possible reasons for the lack of sustainable mHealth interventions are a general lack of resources, training, and support for long-term sustainability.
To address this need, MEASURE Evaluation, funded by the United States Agency for International Development (USAID), scanned the Internet and spoke with community health and mHealth stakeholders to develop a matrix of mHealth solutions that support monitoring and evaluation (M&E) of HIV; reproductive, maternal, and child health (RMCH); and Ebola. Next, we narrowed our list to mHealth organizations that appeared to have a wide breadth of experience and had gone beyond pilot. Then we reached out to them again, to confirm the scope of their mHealth projects and their willingness to participate in the case study.
This document considers several aspects of these two programs, including what aspects of scaling up were considered, how they trained staff, what HIS systems they connect to, what costs savings (if any) were realized in scaling, and what best practices and recommendations they discovered.