Approches techniques de renforcement de la gestion du système d'information sanitaire de routine (SISR) de Guinée

gr-18-018.pdf
— PDF document, 750 kB (768,676 bytes)
Author(s): MEASURE Evaluation
Year: 2018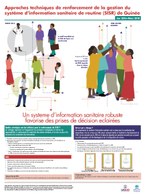 Abstract:
Un système d'information sanitaire robuste favorise des prises de décision éclairées. Quelles stratégies ont été utilisées pour le renforcement du SISR ? Les stratégies reposaient sur l'engagement des partenaires (cartographie et matrices des responsabilités), le renforcement du savoir-faire des acteurs nationaux et la mise en place d'un mécanisme de coordination des interventions. Qu'est ce qui a changé ? Les composantes du système d'information sanitaire sont en place pour la coordination des interventions. Tous les acteurs du SISR savent comment réaliser et maintenir le fonctionnement du SISR, tout en assurant que le SISR est à même de répondre aux questions de santé qui se posent. Les outils appropriés ont été développés et mis à la disposition des acteurs.
A robust health information system promotes enlightened decision-making. What strategies have been used to strengthen Guinea's routine health information system (RHIS)? The strategies were based on the commitment of partners, strengthening the know-how of national actors, and setting up a mechanism for coordinating interventions. What has changed? The components of the health information system are in place for the coordination of interventions. All actors in the RHIS know how to achieve and maintain system functions, while ensuring that the RHIS is able to respond to health issues that arise. Appropriate tools have been developed and made available to stakeholders.
This document is not available in print from MEASURE Evaluation.