La promotion de la demande et de l'utilisation des données du SNIS en Guinée contribue à l'amélioration de la performance dans les établissements sanitaires

gr-18-020.pdf
— PDF document, 1,194 kB (1,222,761 bytes)
Author(s): MEASURE Evaluation
Year: 2018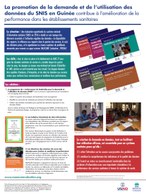 Abstract:
La situation : Une évaluation approfondie du système national d'information sanitaire (SNIS) en 2014 a révélé un vrai manque des éléments essentiels à l'utilisation régulière des données— la disponibilité des rapports, la référence aux rapports dans la gestion des services, le suivi des décisions prises, et le signalement au niveau supérieur de problèmes rencontrés pour recevoir un appui externe (MEASURE Evaluation ; PRISM).
Les défis : Avec la mise en place et le déploiement du DHIS 2 pour gérer les données sanitaires de routine et y accéder depuis les quatre coins du pays, les équipes au niveau sous-national ont besoin d'identifier le SNIS comme un outil essentiel pour leur travail. Ces équipes devaient être capables d'analyser, d'interpréter, et de relier les données aux services rendus pour renforcer leurs connaissances et améliorer leurs performances.
The situation: An in-depth evaluation of Guinea's National Health Information System (NHIS) in 2014 revealed a lack of some essential elements for the regular use of data, namely the availability of reports, references to reports in service management, following-up of decisions made, and reporting to the next level problems encountered in receiving external support (MEASURE Evaluation ; PRISM).
Challenges: With the implementation and deployment of DHIS 2 to manage and access routine health data from across the country, subnational teams need to identify the NHIS as an essential tool for their work. These teams should be able to analyze, interpret, and link the data to the services provided to enhance their knowledge and improve their performance.
The 2018 version of the PRISM Series, updated and with new modules (Toolkit, User's Kit, and Training Kit) is available here: https://www.measureevaluation.org/prism