Assessing Barriers to Data Demand and Use in the Health Sector: A Toolkit

ms-18-134-en.pdf
— PDF document, 4,784 kB (4,899,276 bytes)
Author(s):
Year: 2018
MEASURE Evaluation. (2018). Assessing Barriers to Data Demand and Use in the Health Sector: A Toolkit. Chapel Hill, NC, USA: MEASURE Evaluation, University of North Carolina.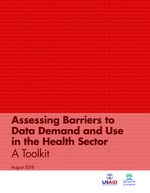 Abstract:
Evidence-informed decision making is essential for ensuring efficient and high-quality health services, supportive policies, and improved outcomes. Global commitments to improve health systems and outcomes have led to better monitoring and evaluation (M&E) and health information systems (HIS), thus providing improved data to use for decision making.
Overall, the relationship of improved information, increased demand for data, and continued use of data constitutes a cycle that leads to improved health programs and policies. Improving data demand and use (DDU) is necessary to improve the effectiveness and sustainability of a health system.
Data use goes beyond completing data reporting forms at the various levels of a national HIS and the passive dissemination of reports and information products. The best decisions are made when data are used and considered to answer a question that is linked to a specific program, policy, or client care action.
Despite the increased commitment to base decisions on data, many organizations struggle to institutionalize and sustain a culture of data use. MEASURE Evaluation (MEval) developed this suite of tools to help data users, producers, and policy makers understand the barriers that impede widespread data use in the health sector and develop action plans to address them.