Fundamentals of Implementation Research [Kindle edition]

ms-12-55.mobi
— Octet Stream, 1,696 kB (1,736,801 bytes)
Author(s): MEASURE Evaluation Implementation Research Technical Working Group
Year: 2012 (rev. 2015)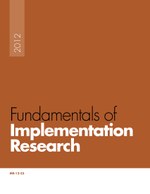 Abstract:
This module, Fundamentals of Implementation Research, is an introduction to the language, concepts, tools, and strategies used in implementation research (IR). The information is intended to be practical and useful for researchers and program implementers as an orientation to IR.
After successfully completing this course, learners will be able to understand key implementation research (IR) terminology, identify IR core concepts, research frameworks, program components, and appropriate IR questions. Specific objectives include:
Identify characteristics of IR
Describe implementation/scale-up and relate implementation research to these processes
Classify research questions and associated research that falls under the umbrella of IR
Summarize framework characteristics and identify strategies for applying them to IR
Recognize how IR is applied to different implementation problems
Classify IR priorities for grant applications
List the roles of various stakeholders in IR and identify appropriate means for integrating stakeholders in the planning of IR and in communicating and disseminating results
Access a media-rich, interactive version of the Fundamentals of Implementation Research non-certificate course designed for high bandwidth settings.
Note: This is a Kindle format e-book and is intended for reading on Kindle devices. To read this MOBI file on your Kindle device, please follow the instructions at http://www.amazon.com/gp/sendtokindle/email. This publication is also available in PDF and EPUB formats.

This publication is also available in the following language:
English
French