Training for PEPFAR OVC Survey Data Collectors: Facilitator's Guide

MS-14-83.pdf
— PDF document, 994 kB (1,017,911 bytes)
Author(s):
Year: 2014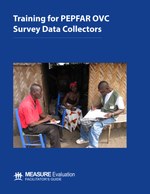 Abstract:
Data collectors implementing the U.S. President's Emergency Plan for AIDS Relief (PEPFAR) orphans and vulnerable children (OVC) survey tools must be trained to a high standard. To enable this, MEASURE Evaluation has developed a training manual and materials for data collectors. Groups wanting to implement the OVC survey tools will need to adapt this training manual and materials to reflect the aims and design of the specific study. However, the structure of the training for data collectors should be similar, regardless of study objectives or design, and there are topic areas such as interviewing children that are relevant to all types of OVC studies and OVC research questions. This training manual aims to provide as much guidance as possible for prospective data collectors to implement these tools.
This training manual has three key objectives:
1. to familiarize participants with PEPFAR's expectations around how these tools should be implemented;
2. to ensure standard and routine application of child protection and research ethics safeguards; and
3. to reduce the burden on local and international researchers who want to implement the OVC program evaluation tools.