Participatory Monitoring & Evaluation in Tanzania's Health and Social Service Programs: Training Manual

ms-17-116.pdf
— PDF document, 5,250 kB (5,376,185 bytes)
Author(s): MEASURE Evaluation Tanzania
Year: 2017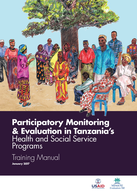 Abstract:
This training manual was developed as part of an effort to build a participatory monitoring and evaluation (PM&E) programme for health and social services at the community level in the United Republic of Tanzania. It serves as a toolkit of useful PM&E techniques for improving the performance and impact of community-based interventions, such as those involving the most vulnerable children (MVC), home-based care (HBC), and gender-based violence (GBV).
This training manual contains session guides and reference notes for use in the PM&E training and in the application of this approach by PM&E facilitators in the field. (A slide presentation accompanies the manual.) The training sessions focus on PM&E concepts, methods, and tools to be used with beneficiaries and providers at the community level. The manual is based on MEASURE Evaluation Tanzania's experience in building PM&E skills at NGOs working in health and social service programmes.
Access a related field manual and slide presentation.