DHIS 2 Functions and Data Use for Health Information System Strengthening Training Manual: Participants' Guide

ms-17-123b.pdf
— PDF document, 6,725 kB (6,887,318 bytes)
Author(s): Tanzania Ministry of Health, Community Development, Gender, Elderly and Children
Year: 2017
Tanzania Ministry of Health, Community Development, Gender, Elderly and Children (MOHCDGEC). (2017). DHIS 2 functions and data use for health information system strengthening: Training manual. Dar es Salaam, Tanzania: MOHCDGEC.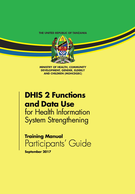 Abstract:
This manual was developed to augment the capacity and skills of Council Health Management Teams (CHMTs) and Regional Health Management Teams (RHMTs) in Tanzania to use the advanced functions and features of DHIS 2.
The training manual addresses competencies that will enable users to improve the quality, analysis, and use of routinely collected health management information system data for effective health program monitoring, planning, and decision making. The participants' guide is downloadable on this page, and a related facilitators' guide is available here.