A Tool to Assess the Impact of Girls' Clubs and Savings Groups on Adolescent Girls and Young Women in Mozambique

MS-18-136-EN.pdf
— PDF document, 1,838 kB (1,882,213 bytes)
Author(s): Nena do Nascimento, Susan Settergren
Year: 2018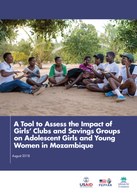 Abstract:
The United States President's Emergency Plan for AIDS Relief (PEPFAR) launched the Determined, Resilient, Empowered, AIDS-free, Mentored, and Safe (DREAMS) initiative in 2016 to accelerate reduction of HIV infections among adolescent girls and young women (AGYW) in 10 sub-Saharan African countries.
Girls' clubs and savings groups for AGYW are core HIV prevention components of the global DREAMS evidence-informed package of recommended interventions. This tool is designed to be used by DREAMS implementing partners to measure individual-level changes that result from participation in girls' clubs and/or savings groups for AGYW. It is designed to be administered prior to beginning either intervention, and then again following completion of the intended participation period, which will typically be one year.
Access a related report and Portuguese versions of the tool and related brief.
This publication is also available in the following language:
Portuguese