Community-Based Health Information System Guide: Approaches and Tools for Development

Community-Based HIS Approaches and Tools_MS-19-161.pdf
— PDF document, 930 kB (952,857 bytes)
Author(s): Dawne Walker
Year: 2019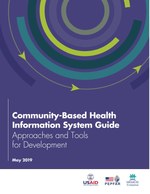 Abstract:
A community-based health information system (CBHIS) is a dynamic system that includes information on how data are collected, how they flow, how to assess and improve their quality, and how they are used. This system involves collection, management, and analysis of data on health and related services provided to communities outside of facilities.
Historically, health management information systems (HMIS) have been fragmented, owing to siloed funding and programs. Frequently, CBHIS and national HMIS do not have standardized data elements, which has hampered efforts to harmonize systems and include community health data in the national HMIS.
This guide does not cover specifics of the CBHIS and its different components. MEASURE Evaluation, which is funded by the United States Agency for International Development and the United States President's Emergency Fund for AIDS Relief, developed this guide to focus instead on approaches, tools, and action items for developing areas under the enabling environment to work towards a harmonized health information system. We will look in depth at how to develop areas under leadership and governance, system design, and system management.