A Practical Way to Prevent Mother-to-Child Transmission of HIV: Learning from the Partnership for HIV-Free Survival

ms-19-182.pdf
— PDF document, 7,289 kB (7,464,908 bytes)
Author(s): Hales, D. K., Bobrow, E. A., Davis, H. B., & Munson, A. J.
Year: 2020
Hales, D. K., Bobrow, E. A., Davis, H. B., & Munson, A. J. (2020). A Practical Way to Prevent Mother-to-Child Transmission of HIV: Learning from the Partnership for HIV-Free Survival. Chapel Hill, NC, USA: MEASURE Evaluation, University of North Carolina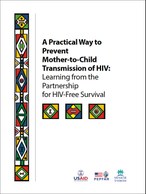 Abstract:
The Partnership for HIV-Free Survival (PHFS) was an innovative project designed to prevent mother-to-child transmission of HIV. PHFS brought together proven practices from prevention of mother-to-child transmission (PMTCT), quality improvement (QI), nutrition, and community outreach initiatives to improve the health outcomes for mothers living with HIV and their HIV-exposed infants. Supported by the United States Agency for International Development (USAID) and the United States President's Emergency Plan for AIDS Relief (PEPFAR), PHFS was active from 2012 to 2016 in six sub-Saharan African countries: Kenya, Lesotho, Mozambique, South Africa, Tanzania, and Uganda.
A team from the USAID- and PEPFAR-funded MEASURE Evaluation project conducted a legacy evaluation of the PHFS in 2018. We identified several compelling lessons for successful PMTCT programs from the ways the project was implemented in the participating countries. These lessons are broadly applicable to countries and facilities that are working to reduce mother-to-child transmission of HIV, increase retention in antiretroviral therapy (ART), support better nutrition practices, and improve clients' health-seeking behaviors.
Although many of the lessons are cited in the PHFS legacy evaluation report (Hales, Davis, Munson, & Bobrow, 2019; https://www.measureevaluation.org/resources/publications/tr-18-314), this document was prepared to provide practical guidance for identifying and implementing appropriate activities in the local context. It includes descriptions of the key lessons, tips, and an extensive checklist to help decision makers and implementers understand how and why to launch, implement, and sustain the critical activities in the PHFS approach.
Access a separate, editable Word file of the checklists at https://www.measureevaluation.org/resources/publications/tl-20-80/