Using Routine Data to Improve Antiretroviral Treatment Retention: Examples and Lessons Learned from the Literature and Experts in the Field

sr-17-141-en.pdf
— PDF document, 462 kB (473,762 bytes)
Author(s): do Nascimento N, Barker C, Li M
Year: 2017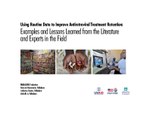 Abstract:
As is almost always the case, the key to helping people be healthy lies with people. In the case of increasing retention in antiretroviral therapy (ART), one key is a strong cadre of community health workers, empowered by a staff of data managers who provide quality data and good data analysis.
Good-quality data and better use of them are the low-hanging fruit to achieve retention on ART—because we can do that now.
All this may sound simple. It's not. Harnessing data to increase ART retention involves a diverse set of skilled practitioners, motivated to collect, analyze, and use routine health facility data. It also requires quality controls for data, sharing data across systems, and the support of country health-program managers and facility staff to sustain achievements.
This document summarizes the three main ways that routine data are currently used to improve adult ART retention in low-resource settings, challenges to their use, and recommendations on how to strengthen data use for improved HIV outcomes.