Health Information Systems Interoperability Maturity Toolkit: Users' Guide

HIS Toolkit Users Guide_tl-17-03a.pdf
— PDF document, 4,085 kB (4,183,380 bytes)
Author(s): MEASURE Evaluation
Year: 2017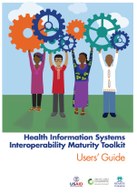 Abstract:
The Health Information Systems (HIS) Interoperability Maturity Toolkit addresses challenges in low- and middle-income countries (LMICs), where information systems are largely fragmented. The siloed information systems collect data to support specific health programs or services. These systems include program-specific information systems; health management information systems; laboratory and imaging information systems; and disease surveillance information systems. Because of their fragmented nature, these systems cannot effectively exchange data or be harnessed to realize the benefits for which the data were collected. In these conditions, decision makers inside and outside of government are unable to efficiently and effectively access the data they need to make decisions. Without timely, complete, and accurate data, decision makers lack important information on which to base their decisions.
The purpose of the HIS Interoperability Maturity Toolkit is for ministries of health, their implementing partners, and other stakeholders to identify the key domains for interoperability and the required levels of maturity to achieve HIS interoperability goals.
The toolkit consists of an HIS interoperability maturity model, a maturity assessment tool, a complete list of references from the literature review that was conducted as part of the toolkit's development, and this guide for users of the model and the tool.
This publication is also available in the following language:
French