Demand and Readiness Tool for Assessing Data Sources in Health Information Systems (HIS DART)

tl-18-14.pdf
— PDF document, 4,458 kB (4,565,993 bytes)
Author(s): Fern Greenwell, Sam Wambugu
Year: 2018
Greenwell, F., & Wambugu, S. (2018). Demand and readiness tool for assessing data sources in health information systems (HIS DART). Chapel Hill, NC, USA: MEASURE Evaluation, University of North Carolina.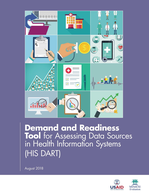 Abstract:
The purpose of the Demand and Readiness Tool for Assessing Data Sources in Health Information Systems (HIS DART) is to guide a systematic review of the demand for HIS data sources and the readiness of these sources to generate comparable data to monitor health system performance. The HIS DART provides an objective appraisal of the alignment of each data source with relevant national and international standards. Conducting this kind of review across data sources is important, because countries need objective evidence as a basis for prioritizing HIS-strengthening investments.
The HIS DART consists of a set of 12 HIS data source modules, with each module containing a questionnaire accompanied by detailed instructions, question by question, to help the administrator and respondents to elicit, convey, and record valid information.
Access the companion reference guide and 12 module files.