Health Service Utilization among Men Who Have Sex with Men and Transgender Women, San Salvador, El Salvador 2011–2012

tr-13-92.pdf
— PDF document, 2,462 kB (2,521,925 bytes)
Author(s): Andrinopoulos K, Hembling J
Year: 2013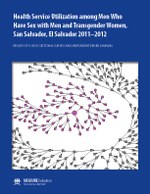 Abstract:
Introduction: Men who have sex with men (MSM) and transgender women (TW) in El Salvador are disproportionately affected by HIV and other sexually transmitted infections (STI), and may experience unique health service needs and access barriers due to their social marginalization.  The purpose of this study was to provide descriptive information on health service utilization for MSM/TW, including HIV/STI services, and factors influencing service use.  It is intended that this information will be used to support programs aimed at improving the quality of life and wellbeing of MSM and TW in El Salvador. 
Methods: A structured survey was administered to a representative sample of 670 MSM and TW in San Salvador between November-February of 2012.  Research participants were recruited using respondent driven sampling (RDS).  The eligibility criteria included: being a man or transgender woman 18 years of age or older, who had anal sex with a man or transgender woman in the previous 12 months, and who had lived, studied or worked in the department of San Salvador for a minimum of three months prior to the interview.  Univariate and bivariate analysis were conducted using RDSAT to facilitate appropriate weighting of the data. 
Findings: One third of participants (30%) received healthcare services from a medical provider in the last 12 months.  Participants with income, health insurance, and a regular provider of healthcare were more likely to use health services.  Participants who had disclosed their sexual orientation to a family member or healthcare provider, as well as those with access to a provider accepting towards MSM/TW, were also more likely to use services.  Those who reported experiencing discrimination from a healthcare provider were less likely to use services. 
Most participants had tested for HIV at least once in their life (75%) and in the last 12 months (61%).  Participants who had ever tested for HIV were more likely to be older, have had 16 or more lifetime sexual partners, to know a PLHIV, to have many social acquaintances that had tested, and to be a survivor of sexual assault.  Among MSM, participants with a high level of internalized homonegativity were less likely to have tested.
Discussion: In addition to traditional access barriers to health services, MSM and TW face unique barriers and health problems due to their sexual identity and orientation and related stigma.  Increasing health service use and HIV testing will require programs to address more distal social factors influencing disclosure to family and healthcare providers, provider aptitude in caring for MSM/TW clients, and internalized feelings of shame related to sexual orientation and identity.            
This publication is also available in the following language:
Spanish