Guidelines for Integrating Gender into an M&E Framework and System Assessment

tr-16-128-en.pdf
— PDF document, 2,751 kB (2,817,936 bytes)
Author(s): MEASURE Evaluation
Year: 2016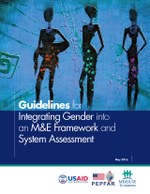 Abstract:
This document offers concrete guidance on how organizations can comprehensively and explicitly integrate gender in their monitoring and evaluation (M&E) systems. It describes how to make each component of a functioning M&E system gender-sensitive and provides guidance on how to assess an M&E system to ensure that gender is fully integrated throughout the system for appropriate collection, compilation, analysis, dissemination, and use of gender data for decision making.
This document outlines why it is important to apply a gender lens to M&E processes and structures and contextualizes gender in an M&E system. It then walks you through how to think about gender and address it in each of the components of an M&E system. This guide includes examples of gender-specific assessment questions that can be integrated in an M&E system assessment and provides guidance on how to plan and conduct an M&E system assessment.
This guidance document is intended for national health program and M&E managers, subnational health program staff with M&E responsibilities, M&E officers from different agencies or organizations, and development partners who provide M&E support to national and subnational M&E systems. 
This publication is also available in the following language:
French