Data Science for Global Health

tr-16-143-en.pdf
— PDF document, 4,080 kB (4,178,380 bytes)
Author(s): Lance P, Spencer J, Janko M
Year: 2016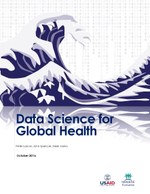 Abstract:
Ours is an age of explosive growth in data. Traditional data sources are ever deeper and richer with each passing day. Even more rapidly, new sources of powerful data are emerging. The result is a stunning, exponentially growing torrent of data from every corner of the globe and about nearly every dimension of human life and activity.
This offers challenges and opportunities for society in general and for global health professionals in particular. The increasing amount of data can lead to more insight, better policy and programs, and improvements in people's lives. However, data can also create noise and confusion if it isn't used effectively.
In short, data science is a production process, and its central challenge is to integrate the functions just described. Much as the practice of data science often involves merging disparate data sources into a whole far more powerful than the sum of its parts, the process of data science intrinsically involves coordinating the identification of information needs, data exploration, analysis, and the communication of data products so that these activities are far more productive and effective than they could be on their own.
This whitepaper introduces global health professionals to data science. Data science is a production process for generating actionable information. It helps us find, understand, and communicate knowledge hidden in the growing data deluge. In global health, successful data science efforts can extract value from data that might otherwise go unused, and use it to inform policy and support programmatic decision making.