Health Systems Strengthening – Monitoring, Evaluation, and Learning Guide

tr-17-167c-en.pdf
— PDF document, 3,400 kB (3,481,929 bytes)
Author(s): Aqil A, Silvestre E, Hotchkiss D, Maniscalco L
Year: 2017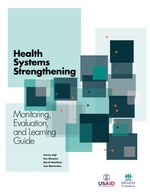 Abstract:
As the number of health systems strengthening (HSS) projects funded by the United States Agency for International Development (USAID) increases, so, too, does the need to build the capacities of staff at the missions and at headquarters to plan, manage, and conduct monitoring and evaluation (M&E) of HSS projects. Evidence on how HSS interventions strengthen the performance of health systems (HS) and contribute to sustainable improvements in health status are scarce and scattered, with limited dissemination.
Health systems are multifaceted and multilayered. The interactions among people, institutions, processes, and outputs makes these systems complex. The complexity arises not only from whether the interventions are simple or complex, practical, and economically feasible, but also from a lack of clarity on causal linkages between HS interventions and the system's performance. HSS monitoring, evaluation, and learning (MEL) is different from the MEL of other types of projects because of its systemic nature, interactions among HS components, and the need to generate evidence on causal pathways and linkages. The guide is complemented by a comprehensive list of HS indicators (Health Systems Strengthening: A Compendium of Indicators) and an HSS MEL needs assessment (Health Systems Strengthening: A Literature Review).
This guide fulfills USAID's staff capacity-building HSS MEL needs, by providing step-by-step instructions on planning, implementing, and evaluating an HSS project. It has the following purposes:
Provide operational guidance on planning, implementing, and evaluating HS MEL activities
Address the complexity of HS in MEL activities
Describe methods/techniques to generate evidence on the effectiveness of HSS interventions in
improving HS
Apply evidence from HSS MEL to learning, adaptive management, and designing HS projects
This guide's overarching intent is to encourage the design and implementation of the project MEL component using existing resources such that the project's capacity to generate evidence around achievements, systemwide changes, and learning is enhanced.