Improving Data Quality in Mobile Community-Based Health Information Systems – Guidelines for Design and Implementation

tr-17-182-en.pdf
— PDF document, 1,687 kB (1,728,473 bytes)
Author(s): MEASURE Evaluation
Year: 2017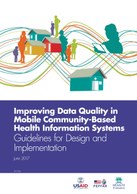 Abstract:
National programs and donor-funded projects increasingly rely on decentralized models of care to expand coverage of health services, ensure linkages to health facilities, and reach the most vulnerable populations. New emphasis has been placed on community-based models in which frontline health workers are expected to provide services and collect and report data. For example, the global "90-90-90" targets recognize that achieving equity in HIV prevention and care will require an emphasis on community-based approaches and systems.
Community-level data can be helpful to health officials as they target programs and make decisions about care and services at lower levels of the health system. The United States President's Emergency Plan for AIDS Relief (PEPFAR) has embarked on a strategy to deliver the right types of interventions, in the right places, at the right time. This will require accurate, reliable, and timely data at district and subdistrict levels to provide an in-depth picture of community health so that programs can focus on populations most at need (PEPFAR, 2014).
Increasingly, community-based health programs collect data that flow into donor programs and national health information system(s) (HIS). Programs are turning to mobile health (mHealth) technology to address a variety of challenges. The mHealth tools provide solutions to challenges associated with paper-based reporting systems, such as inefficient filing systems and operational challenges including storage space associated with transporting paper forms and receiving data in a timely manner. Mobile technologies can help programs improve the completeness and accuracy of data, tap the potential for real-time reporting, and strengthen communication and supervisory feedback practices.