National Malaria Control Programme Monitoring and Evaluation Capacity: End Line Assessment Report

TR-17-196_en.pdf
— PDF document, 1120 kB (1147324 bytes)
Author(s): MEASURE Evaluation PIMA
Year: 2017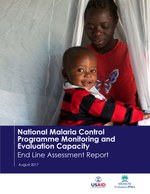 Abstract:
MEASURE Evaluation PIMA (MEval-PIMA) is a project funded by the United States Agency for International Development that seeks to strengthen the capacity of Kenya's Ministry of Health (MOH) and its counterparts to identify and use good-quality data for everyday decision making. This report examines monitoring and evaluation (M&E) capacity at the end of the project and compares it to capacity at baseline for the National Malaria Control Programme (NMCP). The NMCP is one of several national public health programs under the Division of Communicable Diseases Prevention and Control in the Kenya MOH and was one of several national health programs that MEval-PIMA worked with to strengthen M&E capacity.
This end line assessment was conducted in a workshop setting using three participatory methods and an individual capacity assessment. It found that, though there have been great improvements in the M&E system for the NMCP and its priority counties over the past five years, human capacity for M&E and data demand and use are two of the weakest capacity areas in the M&E system. Based on those findings, MEval-PIMA proposed that the program work on improving planning coordination, leadership, and management structures; increase confidence in routine health information systems; improve data demand and use; and sustain capacity building in the context of devolution.
This report also summarizes threats to sustained progress and provides recommendations for achieving sustainability as proposed by the participants in the assessment.
This document is not available in print from MEASURE Evaluation.