MomConnect Operational Research: Capacity Building to Increase Registration Rates at Clinics

MomConnect Op Research_CB to Increase Clinic Registration_FINAL_tr-17-207.pdf
— PDF document, 1376 kB (1409172 bytes)
Author(s): Khou Xiong and Brittany Iskarpatyoti
Year: 2017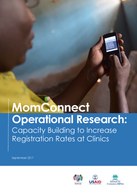 Abstract:
The accomplishments of MomConnect, though substantial, fell short of the target to register 1 million pregnant women. To improve registration rates, MEASURE Evaluation–Strategic Information for South Africa (MEval–SIFSA)—funded by the United States President's Emergency Plan for AIDS Relief through the United States Agency for International Development—and the NDOH provided retraining and additional support to enhance the capacity of district- and facility-level supervisors who oversee MomConnect implementation at facilities.
The objectives of the study in this report were to (1) assess whether capacity building efforts improved MomConnect registrations, (2) identify high-volume antenatal care (ANC) facilities that are consistently underperforming after capacity-building (CB) efforts, and (3) determine the persisting barriers that contribute to low registration rates.
During trainings, checklists, pretests, and posttests were used to assess information shared and gained by participants. During supportive site visits, the research team performed a standardized assessment to determine the persisting barriers that contribute to low registration rates. MomConnect registration and ANC visit data in the district health information system 2 (DHIS 2) were tracked monthly to monitor the registration rates of ANC facilities.
MomConnect CB efforts were found to have made substantial strides in increasing registrations among pregnant women, and MEval–SIFSA makes a series of recommendations to achieve further improvement. 
This document is not available in print from MEASURE Evaluation.