Community-based surveillance of priority diseases in Senegal: Lessons learned in pilot districts

tr-18-247.pdf
— PDF document, 1,297 kB (1,328,604 bytes)
Author(s): Alioune Badara Ly, Jenny Mwanza, Doudou Diop, Judith Nguimfack Tsague
Year: 2018
Ly, A.B., Mwanza, J., Diop, D., & Nguimfack Tsague, J. (2018). Community-based surveillance of priority diseases in Senegal: Lessons learned in pilot districts. Chapel Hill, NC, USA: MEASURE Evaluation, University of North Carolina at Chapel Hill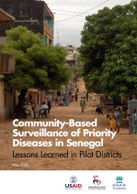 Abstract:
The Health Emergencies Operations Center (COUS) of the Ministry of Health and Social Action (MSAS) of Senegal launched community-based surveillance (CBS) in 2016 with support from the United States Agency for International Development (USAID) and the World Health Organization (WHO).
The USAID-funded MEASURE Evaluation provided technical support to implement the pilot stage of CBS in four districts in the regions of Saint Louis and Tambacounda. The overall goal of this initiative was to reduce the time lapse between the onset of symptoms and the health system's response to prevent infectious disease epidemics.
Together, we created a CBS teaching manual, tailored the mHealth platform to send notifications via SMS (Short Message Service) and data management, and developed standard operating procedures (SOPs) for data analysis and checklists for supportive supervision. Overall, 16 district medical team (ECD) members, 106 nurses and health-post head nurses (ICPs), and 2,094 community health workers (CHWs) were trained to implement CBS.
As of 13 March 2018, 360 priority disease alerts were sent via SMS by community watch and alert committees (CVACs), including 72 percent that were investigated by ICPs. Of the investigated alerts, 112 were classified by ICPs as corresponding to the clinical symptoms of priority diseases under surveillance that should be reported to the district as suspected cases. In this report, we describe the pilot project to implement CBS, preliminary results, and recommendations for supporting a surveillance system for priority diseases at the community level.
This publication is also available in the following language:
French