Comparative Analysis of Data Quality Assessment Tools

tr-18-300.pdf
— PDF document, 1,519 kB (1,555,795 bytes)
Author(s): MEASURE Evaluation
Year: 2018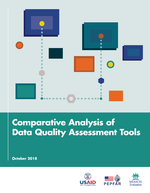 Abstract:
The advent of the United States President's Emergency Plan for AIDS Relief (PEPFAR) and the Global Fund to Fight AIDS, Tuberculosis and Malaria (the Global Fund) 15 years ago brought significantly increased investments in disease control and prevention in developing countries. As more funds became available, so did the need to show returns on investment in the form of public health gains. Monitoring and evaluation (M&E) of interventions is critical for demonstrating the effectiveness of health programs but is dependent on data reported from health facilities that are often of poor quality. Resources have been devoted to improve data quality in health and disease programs, but problems persist as countries struggle to maintain capacity for data management, analysis, and use.
The number of patients on treatment is a very high-profile and useful indicator for monitoring the effectiveness of HIV programs. Treating patients over their lifetime and accurately recording these results is a challenge, however. Longitudinal treatment records (registers) for patients who return repeatedly for treatment and evaluation need to be summarized periodically in static reports. Counting accurately becomes more challenging as patients come and go from active treatment cohorts, move from one site to another, stop treatment as a result of side effects, or become lost to follow-up.
With the advent of "test and start"—an effort to expand the rolls of those on treatment and reduce the "waiting list" (those enrolled in care but not yet on treatment)—more scrutiny has been applied to treatment results, and the findings have not always been up to standard.
Several new tools have been developed to try to meet the need for data quality assurance, particularly for HIV and AIDS. The tools all use similar methods for gauging the accuracy of reporting, though many differences exist between them regarding the objectives and scope of their methodologies. This comparative analysis of data quality tools seeks to aid in the understanding of their similarities and differences as well as the selection of the appropriate tools and methods for assessing and improving data quality within a particular context.