Reproductive Empowerment Scale: Psychometric Validation in Nigeria

tr-20-393.pdf
— PDF document, 1,636 kB (1,675,531 bytes)
Author(s): Mandal, M., & Albert, L. M.
Year: 2020
Mandal, M., & Albert, L. M. (2020). Reproductive Empowerment Scale: Psychometric Validation in Nigeria. Chapel Hill, NC, USA: MEASURE Evaluation, University of North Carolina.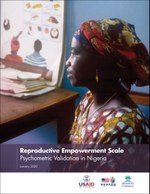 Abstract:
MEASURE Evaluation, a project funded by the United States Agency for International Development (USAID), validated a previously developed measure of reproductive empowerment (RE) that can be used in evaluations or other types of surveys in sub-Saharan African countries, with the goal of providing family planning (FP) and reproductive health (RH) programs and national or regional governments with a tool to measure the status of and changes in RE in their populations. We examined the validity of the RE scale by embedding the scale items in a baseline survey, implemented from May to June 2019, for the evaluation of the John Templeton Foundation-funded Masculinities Faith, and Peace (MFP) intervention in Plateau State, Nigeria. First, we examined the psychometric properties of the scale by using confirmatory factor analysis (CFA). We assessed the construct validity of the scale by using logistic regression to test the association between RE and FP outcomes. The results from this study suggest that the final RE scale has considerable potential to be a valid and predictive measure of RE. When used in future studies, the scale should be psychometrically tested with various samples to provide additional data on its validity. The new 20-item RE scale presented in this report can be used to evaluate programs or interventions designed to improve women's RE and to assess the state of RE in populations of sub-Saharan Africa.
Access the reproductive empowerment scale and related reports sharing findings from a study in Zambia and findings from a study in Kenya.