An Assessment of the Advancing Adolescent Health Program in Bangladesh

Advancing Adolescent Health program assessment_Bangladesh_tr-20-400.pdf
— PDF document, 3,249 kB (3,327,756 bytes)
Author(s): Quamrun Nahar, Anadil Alam, Sadia Afrin, Sharad Barkataki, Shusmita Khan, Ali Ahmed, Iffat Sharmin, Musarrat Rubina Mannan, and Mizanur Rahman
Year: 2020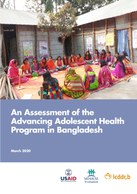 Abstract:
The Advancing Adolescent Health (A2H) program was funded by the United States Agency for International Development (USAID) and implemented by Plan International in Rangpur District, Bangladesh, from January 2016 to January 2019. Plan International collaborated with two local nongovernmental organizations to implement A2H: The Eco-Social Development Organization and World Mission Prayer League's LAMB Hospital—popularly known as LAMB Hospital.
The goal of A2H was to improve adolescent sexual and reproductive health and family planning knowledge and access and use of related services for married and unmarried adolescents.
To assess the program, the USAID-funded projects Research for Decision Makers, based at the International Centre for Diarrhoeal Diseases Research, Bangladesh, and MEASURE Evaluation, based at the University of North Carolina at Chapel Hill (USA), conducted a household survey from July–September 2018 among 8,501 girls ages 15–19 years from the two selected program areas and 3,005 similar girls from a comparison area. This report presents findings from an analysis of this survey.